RAL COLOR READER: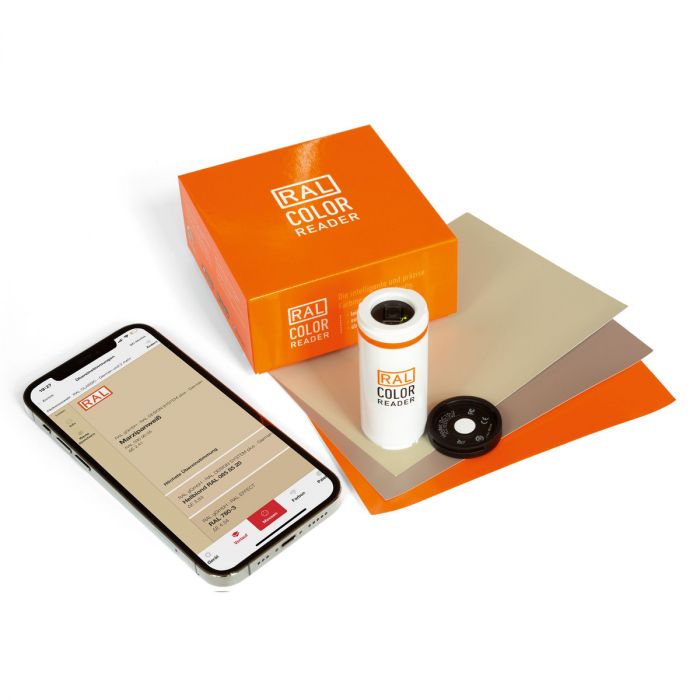 PRACTICAL AND ACCURATE COLOUR MEASURING DEVICE
Are you looking for a compact and yet also very accurate colour measuring device to help you identify and select colours, which is also easy to use? The RAL COLOR READER is the solution for all these requirements and will act as the basis for professional colour suggestions and designs. You can easily link the intelligent colour measuring tool with your Smartphone via Bluetooth to immediately compare individual colour requests in the Color Reader app with the corresponding RAL colour. This is how you will find the right RAL shade simply and quickly!
RAL COLOR READER:
COLOUR MEASURING TOOL WITH 92 % MEASURING ACCURACY DIRECTLY DURING THE FIRST COLOUR SCAN
Thanks to its precision, the RAL COLOR READER is exactly the right tool for professional colour users. The device will already impress you during the first colour scan with its measuring accuracy of 92 %. The RAL COLOR READER has a highly developed optical lens and six white LEDs with a high CRI value. The powerful LEDs isolate colours and illuminate them equally, enabling you to obtain an accuracy measurement even at the first attempt. It doesn't matter whether you are measuring wall or floor colours, the colour of a piece of furniture, plastic or textiles, whether the colour is matt or has a metallic effect, plain colours or samples. The colour measuring device will provide the right RAL shade even on the smallest surface.